Flash support to hit webOS in first half 2010
If you have given any Flash based website a try recently you may have been greeted with the notice below. Apparently Adobe is letting webOS users know to expect Adobe Flash support sometime in the first half of next year.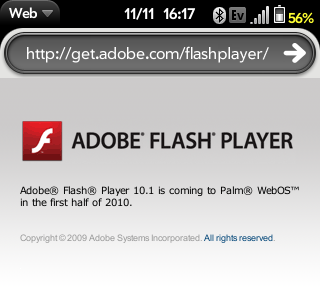 Adobe Flash 10.1 for mobile phones has been given to manufacturers last month in preparation for the launch but of course we will not be available to any of us anytime soon. Don't be expecting flash support in January of February as such a large release takes time and they want to get it right the first time. In fact with something as large as mobile Flash support we wouldn't be surprised if it didn't get pushed to customers till June. Keep your fingers crossed that it won't take them that long.